About Conway Regional
Conway Regional Health System provides complete health care services to a seven-county service area of North Central Arkansas including Cleburne, Conway, Faulkner, Perry, Pope, Van Buren, and Yell Counties. Centered on a 150-bed, acute care medical center, the health system provides patients with a variety of services including heart health, orthopedic care, neuro-spine surgery, vascular surgery, gastroenterology services, women's health, surgery, and rehabilitation. In addition, Conway Regional operates an expansive Physician Enterprise, including 10 Primary Care Clinics and seven specialty clinics.
With more than 225 physicians on the active and consulting medical staff, 1,700 employees and 100 volunteers, Conway Regional is committed to making better health care a reality. Conway Regional maintains an employee engagement score in the top 20% of hospitals throughout the country and a Medical Staff engagement score in the top 5%, as compared to hospitals of similar size and scope. Conway Regional is the only Hospital in Arkansas named to Modern Healthcare's National Best Places to Work in 2018, 2019, 2020, and then received the honor again in 2021. Conway Regional has been named an Arkansas Best Place to Work in 2017, 2018, 2019, 2020 and 2021. In 2021, Conway Regional was designated as a Certified Great Place to Work.
Graduate Medical Education
The Conway Regional Residency programs are based at the Conway Regional Medical Center, located in the heart of Conway, Arkansas. Accredited by the Accreditation Council for Graduate Medical Education (ACGME), Conway Regional Health System serves as the Sponsoring Institution to Family Medicine and Internal Medicine Programs.
The residency programs at Conway Regional fosters innovation while incorporating traditional family and internal medicine practices, outstanding specialty training, minor surgeries, obstetrical/gynecological care, and pediatrics into a dynamic educational process. The primary goal of each program is to equip future family and internal medicine practitioners with the knowledge, experience, and skills necessary to provide exemplary patient care and positively impact the full spectrum of primary healthcare.
Throughout training, our residents will receive ample opportunities to refine their communication skills, apply evidence-based medical practice to improve clinical outcomes, and develop habits conducive to practicing life-long learning and improvement in the fields of family and internal medicine. Mentorship and collaboration will be a critical component of these programs, and resident physicians will learn to practice as effective members of the healthcare system through multi-disciplinary team-based care within the inpatient and ambulatory settings. Overall, we hope to instill with these resident physicians a passion for making lives better and foster a patient-centered approach for all graduates as they continue onto their individual medical practices.
Awards & Recognition
At Conway Regional, our team strives to be bold and exceptional as we answer the call to provide high-quality, compassionate care to the communities we serve. We are honored to have our team's commitment to care recognized.

Conway Regional Provides Award-Winning Care
Physician and employee engagement are prioritized as an integral part of our work culture. We partner with Press Ganey to evaluate both patient and employee experiences to ensure we continue to create and maintain a high-performance environment that improves the quality of the health care services provided.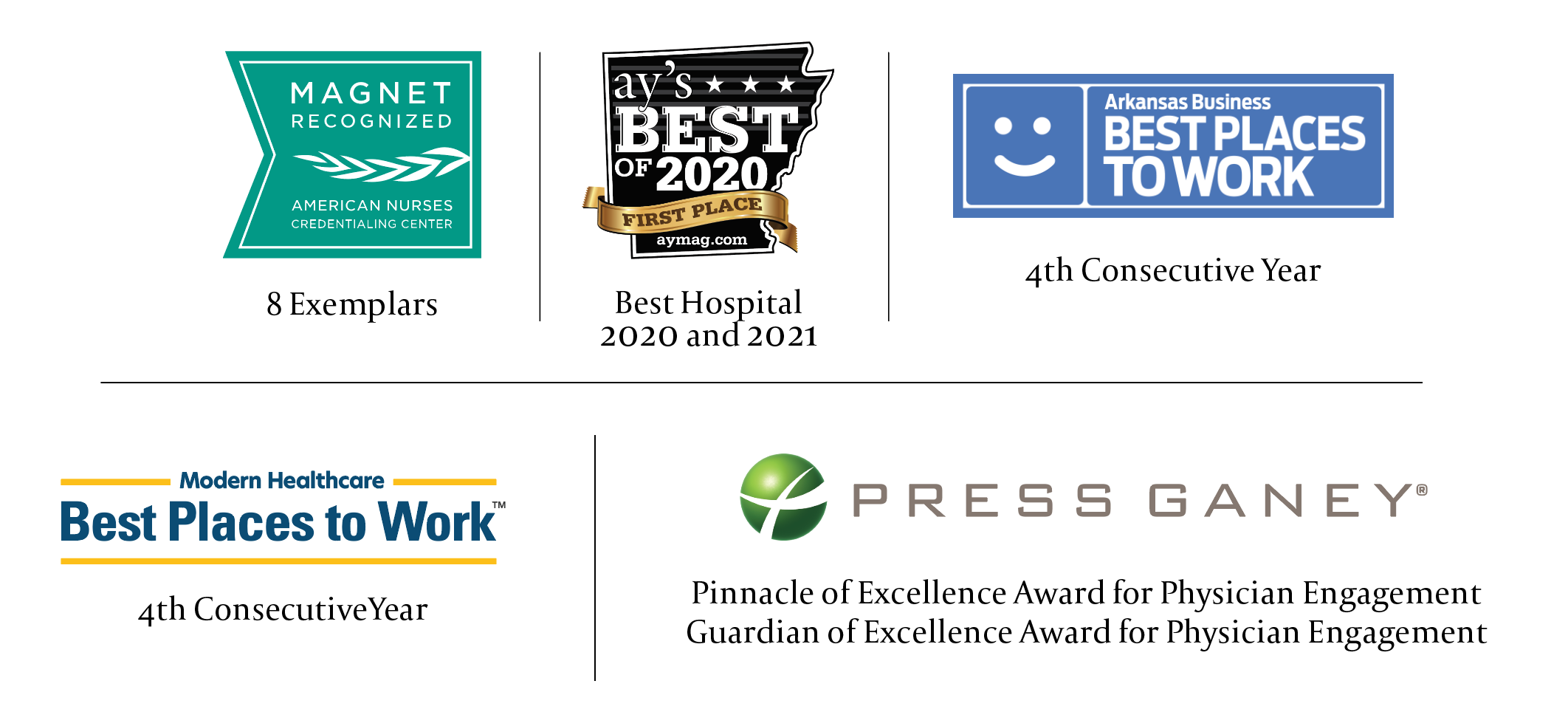 Magnet Recognized
AY's Best Overall Company of 2020 and 2021
AY's Best Hospital of 2020 and 2021
Modern Healthcare Best Places to Work 2018-2021
Arkansas Business Best Places to Work 2017-2021
Pinnacle of Excellence Award for Physician Engagement, Guardian of Excellence Award for Physician Engagement