Employment Benefits
At Conway Regional, we're more than coworkers, we're family. Join our team and see first-hand why Modern Healthcare and Arkansas Business named us a "Best Place to Work." Additionally, in 2020, Conway Regional Medical Center achieved Magnet designation--a reflection of our nursing professionalism, teamwork, and superiority in patient care.
We offer great benefits such as 401K Match, Tuition Reimbursement, Continuing Education, Certification Reimbursement, Paid Maternity and Paternity Leave, and much more.
At Conway Regional, we are blessed to have a bold team that is engaged, take pride in their calling, and work in unity to provide exceptional care.
Awards & Recognition

At Conway Regional, our team strives to be bold and exceptional as we answer the call to provide high-quality, compassionate care to the communities we serve. We are honored to have our team's commitment to care recognized.

Conway Regional Provides Award-Winning Care
Physician and employee engagement are prioritized as an integral part of our work culture. We partner with Press Ganey to evaluate both patient and employee experiences to ensure we continue to create and maintain a high-performance environment that improves the quality of the health care services provided.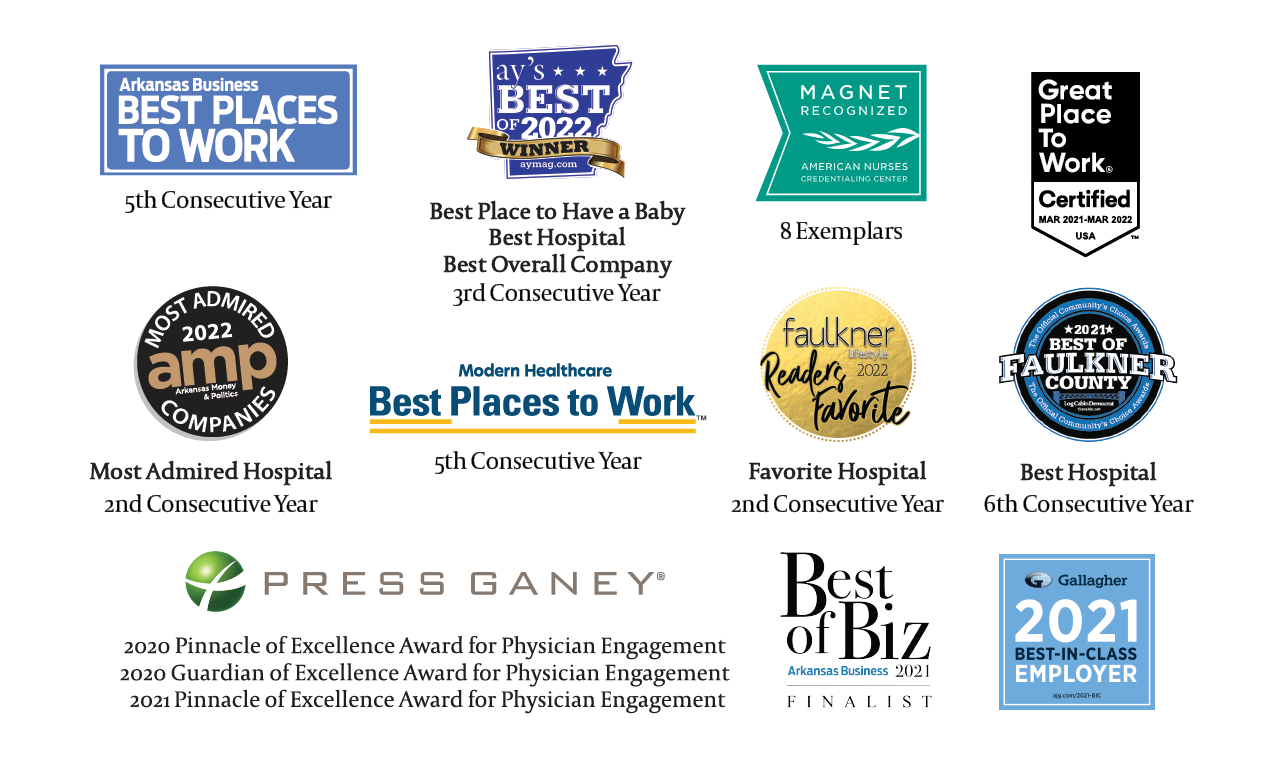 Magnet Recognized
AY's Best Hospital of 2020, 2021, 2022 and 2023
Modern Healthcare Best Places to Work
Arkansas Business Best Places to Work
Pinnacle of Excellence Award for Physician Engagement, Guardian of Excellence Award for Physician Engagement
---
2023-24 Salary
Resident salaries are competitive and based on their current program year. Salary and compensation for residents will be competitive and commiserate to post-graduate education level.
PGY-1: $55,400.00
PGY-2: $57,000.00
PGY-3: $59,000.00
PGY-4: $62,000.00
Benefits
Residents receive access to a variety of benefits including the following:
Health Insurance
Dental Insurance
Vision Insurance
Life Insurance
Long-Term Disability Insurance
Malpractice Insurance
Flexible Benefits Plan
Paid Vacation
Free Parking
Computer / Tablet
Physician Coats
Meals on Call
Membership Fees